Perfume.com Customer Support Center
Psychology and Smell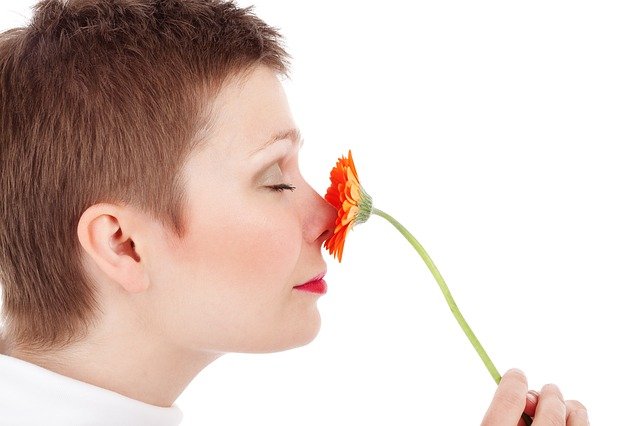 https://pixabay.com/photos/adult-beauty-face-female-flower-19033/
Psychology and Smell
Your nose's main job is to detect smells in the air you breathe and send along clean, warmed, and moistened air to your lungs. Your nose is a prominent part of your face with two nostrils and the divider between them, which is called the septum. Inside, you have nasal cavities that filter the air you breathe. Olfactory hairs are in charge of the sense of smell, which is call olfaction. When molecules enter your nose, they dissolve in the mucous membrane that lines the nasal cavities. The olfactory hairs react and transmit information to the olfactory bulb that sits in the front part of the brain. The brain can then interpret the smell to decide how to respond.
Smell and Emotions
When messages about smells reach the brain, emotional responses often happen. You have smells that you like and dislike, and your brain automatically responds to smells based on what you like. You may find the smell of roses to be delightful, or they may smell sickeningly sweet to you, depending on your unique personality and taste. Most people share a common dislike for scents that smell unpleasant, such as smoke and rotten food. Many people also share a common love of pleasant smells such as fresh mint and sweet vanilla. When you smell these scents, your brain immediately knows whether you like them or dislike them.
Smell and Memory
Sometimes you'll smell a scent and it will immediately trigger a memory, possibly good or bad. Whenever you experience something, your senses of sight, hearing, taste, and touch record information, and your brain stores these details in the hippocampus and the amygdala. Scents aren't stored in the same way, though. Instead, scents are stored in the olfactory bulb, which is connected to the hippocampus and the amygdala. For this reason, smelling a scent that connects to a memory will often trigger the connection very quickly, usually along with an emotion. For example, when you smell roasted peanuts or cotton candy, you might immediately think about a time you went to the circus. When you smell the salty air, you might think about a beach vacation.
More Information
Your sense of smell is an important part of your overall emotional and physical health. If your sense of smell isn't working correctly, your nose won't filter air correctly and moisten the air adequately before it reaches your lungs. Being able to smell protects you from danger. When you smell a strong scent or chemical, you will instinctively try to avoid it to protect yourself. Your sense of smell also connects you with your environment. Sometimes people lose their sense of smell, and this can have a huge impact on their lives. Catching a bad cold usually involves a lot of nasal congestion, which can temporarily interfere with your sense of smell and taste. This type of loss of smell doesn't last very long, though. Other people might lose their sense of smell for longer than a few days, which is called anosmia. People with anosmia often talk about feeling isolated from the world, and it might be hard for them to tune in to their emotions. Depression is common for people who can't smell, and they might also have trouble forming relationships with other people. Because people who can't smell usually can't taste their food, they often stop enjoying their meals. Scents are so tied to emotions and memories, it's also typical for people to suffer when they stop smelling scents that trigger emotions and memories. Losing the sense of smell for an extended time may be an early symptom of specific health issues. So, if this happens, it's important to see a doctor.