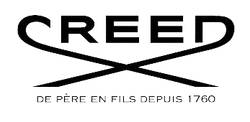 Creed Perfume and Creed Cologne
When it comes to tradition, luxury, and longevity, Creed perfume is in a class by itself . Founded in 1760 as a London tailoring establishment providing scented gloves, commissioned fragrances, and tailored clothing to the English court, the House of Creed is the world's only private luxury fragrance company. From the beginning, the creations of the House of Creed were recognized for their quality, refinement, and originality, quickly becoming a favorite with the English court and Queen ... Read More ... Read More Victoria. In 1854, under Empress Eugénie of France, the House of Creed moved to Paris, and it soon rose to international fame. The company, passed from father to son, is currently under a sixth-generation master perfumer and creator of the modern Creed fragrance Himalaya.

Creed continues to cater to those of discerning taste into the modern era. With a worldwide clientele that includes royalty and captains of industry, Creed perfumes and colognes remain a symbol of status and wealth. With fragrances ranging from the woodsy top notes of Green Irish Tweed to the sweet citrus accords of Virgin Island Water, Creed fragrances are designed to entrance and entice. Not to be outdone, the House of Creed offers several fragrances for women as well, including the re-released Fleurs de Bulgarie, based on the 19th-century version created exclusively for Queen Victoria. Scents such as the cool, fresh verbena of Royal Water and the exotic Bulgarian rose of Jasmin Imperatrice Eugenie showcase the diversity of scents available from the House of Creed.

When you buy Creed cologne for men or perfumes for women from Perfume.com, you will get to experience some of the most sought-after fragrances in the world. Shop for your favorite Creed perfume online and receive an amazing discount without worrying if you're getting what you paid for. Every Creed fragrance sold by Perfume.com is guaranteed to be authentic. If your choice is sold out, our email notification system will let you know when we have it back in stock so you can complete your order. If your order is not to your satisfaction, return it to us within 30 days for a full refund.
Women's Creed
36 Fragrances
Men's Creed
28 Fragrances