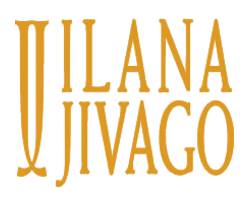 Ilana Jivago Perfume and Ilana Jivago Cologne
American perfume house Jivago was founded in 1995 by Ilana Jivago with her goal being to transport perfumery back to its foundation of class, elegance and opulence . Jivago believes that every element of the perfume, aside from the obvious scent and color of the fragrance, the aesthetics of the vessel to the outside packaging, must convey a message. Beverly Hills is the location of its head office and designer services while distribution and production is located in Paris.

Jivago 24k for women ... Read More ... Read More is the first perfume from Ilana Jivago. Containing actual 24 carat gold leaves this precious ingredient is not only meant for decoration but is a component of the fragrance. Inspiration from Jivago 24k came from Jivago's own mother which is noteworthy as the composition opens with the Bulgarian rose, a symbol of love.

Jivago 24k for men was introduced in 2011 and is designed for the sophisticated man who is fond of luxury. As in the Jivago 24k version for women, the men's incarnation also contains real 24 carat particles of gold. A spicy lavender and amber make up this cologne and in addition to its precious ingredient, will give any man the added poise needed to make it through day.

Jivago Connect for women was launched in 2003. This clean smelling, long lasting, citrusy floral fragrance is blended in perfect balance giving it an all-round feminine allure. The heart of this perfume is a powdery mix of spices which rests perfectly on a woody musky base which makes it a memorable addition to any special occasion.
Women's Ilana Jivago
13 Fragrances