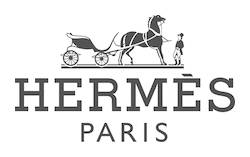 Hermes Perfume and Hermes Cologne
Started in 1837 as a harness workshop dedicated to serving the noblemen of Europe, the Hermès family business created some of the finest wrought harnesses and bridles for the carriage trade . After expanding the business to include saddles and retail sales in 1880, the Hermès family business and reputation continued to grow. Their first foray into accessories was a bag specifically designed to carry a saddle. Throughout the 1920s, Hermès continued to expand on their accessory collection, with ... Read More ... Read More the first handbag introduced in 1922. This was brought about by the head of the firm creating a handbag collection to appease his wife. The first women's couture apparel collection was previewed in Paris in 1929, and the 1930s saw some of Hermès' most recognizable original goods.

In 1949, Hermès debuted their first perfume: Eau d'Hermès. Hermes perfumes became a subsidiary in 1961, the same year they introduced their fragrance Calèche, a masterpiece that instantly transformed Hermes fragrances into one of the main players on the stage of modern perfumery. Other great Hermes perfumes followed, such as Concentre d'Orange Verte for both men and women and Elixir des Merveilles, a popular Hermes perfume for women.

Ordering Hermes Fragrances

When you order Hermes perfume for men or women from Perfume.com, you can rest assured that customer service is our top priority. We want our customers to be 100% satisfied: That's why we offer a 30-day money-back guarantee on all fragrance orders, including Hermes perfume. Women or men looking for hard-to-find or discontinued scents will be happy to learn that we stock thousands of popular perfumes and colognes. Since we have free shipping on orders over $59 and free returns, you can see why we're the most trusted online shop for discount designer fragrances like Hermes cologne for men. All of our scents are guaranteed to be 100% authentic: We do not support knock-offs! As a customer, you can feel secure knowing that we never share our customers' information with third parties.

For your convenience, we offer three simple ways to order from Perfume.com: online, by mail, or by phone. Simply call 1-800-645-9251 to speak to one of our representatives and start the ordering process. Our customer service team is available from 7 a.m. to 4 p.m. Eastern time, so give us a call today!
Women's Hermes
34 Fragrances
Men's Hermes
19 Fragrances