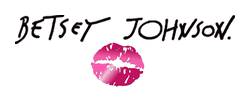 Betsey Johnson Perfume
Colorful costumes from childhood dance classes and everything whimsical associated with it has been the inspiration for Betsy Johnson throughout the years and has brought embellishment and extravagance to her work . Studying first at the Pratt Institute and then later at Syracuse University, Johnson got her first real taste of fashion in 1964 as an intern at Mademoiselle magazine the summer after graduation. While there she won the Guest Editor Contest and within a year was the in-house designer ... Read More ... Read More for Paraphernalia boutique in Manhattan which was well known in London for the creations of Paco Rabanne. During this time Johnson became known as a member of youthquake as well as a member of Andy Warhol's underground scene.

Johnson opened her first boutique in 1969 which featured her famous sexy silhouettes and floral hippy designs. She also took control of fashion label Alley Cat in the 1970s which was popular among musicians of the day with her debut collection selling over $5 million in volume. 1978 saw the creation of the Besty Johnson label which she has expanded to offer accessories, purses, eyewear, watches, jewelry and fragrances.

Inducted into the Fashion Walk of Fame in 2002, Johnson was already a well established designer before the introduction of her first fragrance, Betsy Johnson in 2006. A fruity floral perfume that is sparkling and joyful, it is a perfect blend for the feminine woman. Presented in an art deco inspired vessel housed in a leopard print and rose box, Betsy Johnson is a true representation of the artist herself.

Women's Betsey Johnson
3 Fragrances