Ariana Grande is known for creating uplifting and bubbly sweet scents that are as fabulous as she is on stage
It doesn't get much more candy-sweet than Ariana Grande. She's a role model and an inspiration to millions of her fans. Her fragrances beautifully reflect her aesthetic of sweet and approachable fun. With that said, many of her best scents are fittingly in the gourmand realm.
In fact, marshmallow is a prominent note in almost all of Ariana Grande's fragrances.  The singer's scents are by and large very affordable too, making them great choices for first scents for tweens and teenagers or gifts for young women — and for just about any occasion year round. 
Besides making approachable scents that are age-appropriate, Ariana Grande perfumes are also beautifully packaged. These scents are display pieces that girls — and adults — will likely want to proudly display on their vanity. 
Here's a look at the seven best Ariana Grande perfume picks for 2022.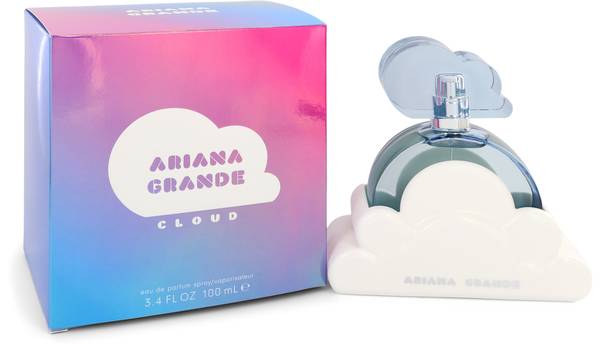 When it comes to the best Ariana Grande fragrances, Cloud is top of mind for many of the singer's fans. Not only is the juice delectable, but the bottle is stunning too! Shaped like a fluffy cloud, it perfectly reflects the sweet scent housed inside.
While sweet notes like whipped cream, praline, coconut, and vanilla orchid come off intensly, they're balanced out by fruity and floral notes like lavender, pear, bergamot, and musk. The enticing mixture creates a well rounded scent that more mature women will love as well.
If you're looking for a scent that puts you in the mood for smores by the fire or sugar cookies fresh out of the oven, this is it. Do be careful not to overspray this scent, as it is powerful and will linger on both skin and clothes for hours. 
Recommended related fragrances: Fantasy Perfume by Britney Spears, First Perfume by Van Cleef & Arpels, Boss Femme Perfume by Hugo Boss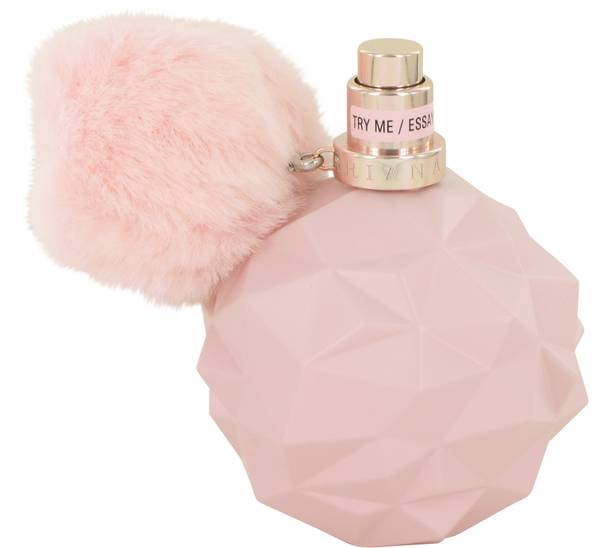 Sweet Like Candy is a bit sexier than some of the other Ariana Grande fragrance launches, but it's no less playful or appropriate for younger women. It comes in a fabulous pink multi-faceted bottle finished off with an oversized pouf that gives off utterly glamorous vibes.
Even those who wouldn't put this scent on a list of the best Ariana Grande perfumes for women won't be able to deny it's one of the best fragrance bottles (from any brand!), especially for girly-girl personalities.
While there are fruity notes like blackberry, pear, and bergamot Sweet Like Candy, true to its name, is first and foremost a gourmand scent brimming with sugar-y notes like whipped cream, vanilla, and marshmallow. This yummy scent will work year round and with its powerful longevity, projection, and sillage will last from day to night. 
Recommended related fragrances: Burberry Brit by Burberry, First by Van Cleef & Arpels, Dolce & Gabbana Light Blue Perfume by Dolce & Gabbana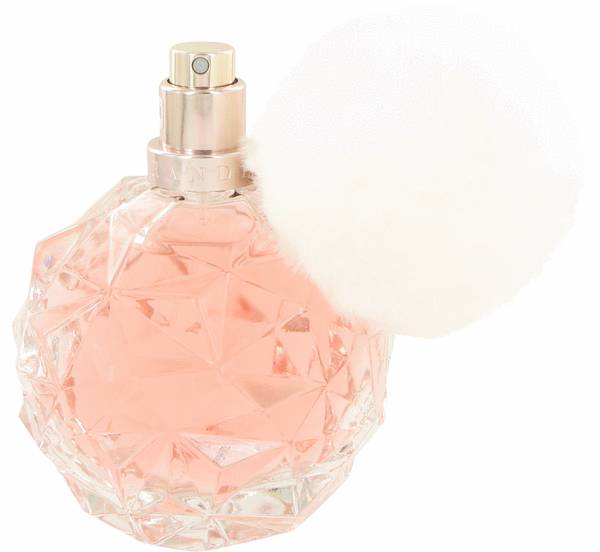 There are so many great Ariana Grande perfumes for women, but Ari is a favorite for those looking for a sweet, nice, and very easy-to-wear scent. While this isn't the best option for more mature women, those looking for a scent for a tween or teen won't be disappointed by the burst of juicy fruit sweetness in this scent.
The first fragrance launched by the singer, Ari comes housed in her now-signature round bottle with an oversized pouf. Ari is a wonderful first scent that girls can wear just as well to school as they can to a party or for a fun weekend with friends. It's sweet, but not overwhelmingly (read: nauseatingly) so. 
Recommended related fragrances: L'instant Perfume by Guerlain, Boss Femme Perfume by Hugo Boss, Fidji Perfume by Guy Laroche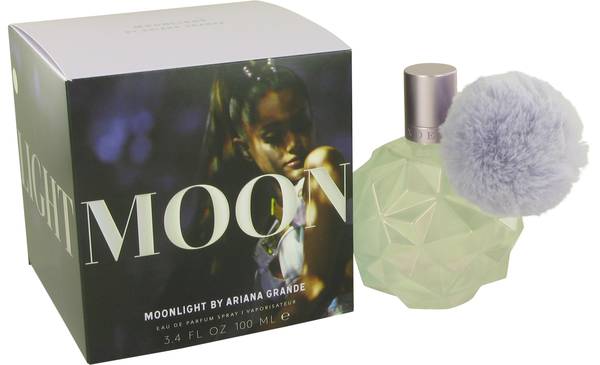 Like her debut scent, Ariana Grande Moonlight is the perfect Ariana Grande fragrance for anyone looking for something easy to wear, sweet, and warm. Think of it like a cozy hug. With its base notes of vanilla, sandalwood, and amber, this is one of the best Ariana Grande perfumes to wear as a wintertime scent thanks to its hearty, heavier notes.
This singer has said she created this particular scent to reflect her personality and the special relationship she has with her fans. She hopes it inspires women — especially young women — to be confident and positive. With a heart of marshmallow and peony, this Ariana Grande fragrance does just that as it's balanced and nuanced with just the right amount of mystery and softness.   
Recommended related fragrances: Lolita Lempicka by Lolita Lempicka Perfume, Samsara Perfume by Guerlain, Burberry London (New) Perfume by Burberry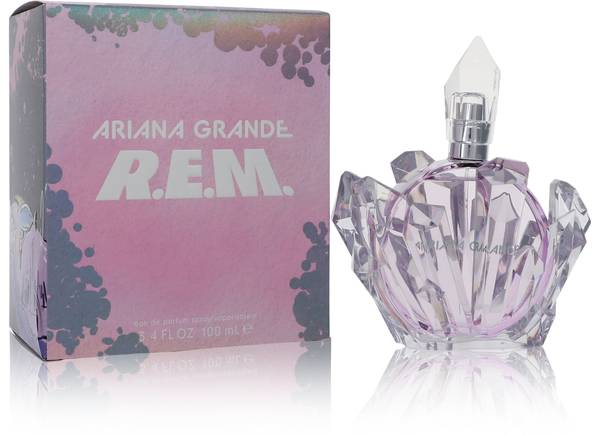 One of the more recent Ariana Grande perfumes for women, Ariana Grande R.e.m. offers fans another jaw-dropping bottle. Sure it might be a little kitch, but for the young women this scent is aimed at, it's perfect.
Ariana Grande is known for making sweet gourmand scents — and this one is undeniably sweet with notes like zefir, caramel, fig, and pear blossom. Yet it features a softer and more subtle sweetness than many of the singer's other scents.
In fact lavender comes through most strongly, making this a fantastic day-to-night scent in the springtime. Like most of the best Ariana Grande perfumes, R.e.m. has stellar longevity and projection, so there's no need to spray too much.
Recommended related fragrances:  Very Irresistible Sensual By Givenchy, Mon Guerlain Perfume by Guerlain, Le Parfum Elie Saab Perfume by Elie Saab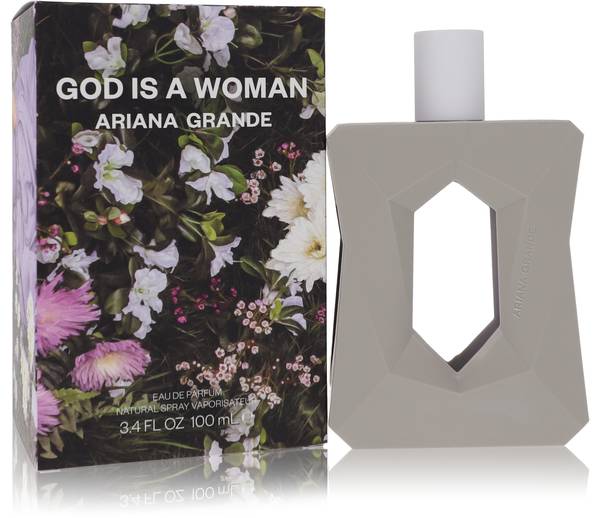 With a name like God Is A Woman, it's not surprising that this is a strong, empowering scent (just like the Ariana Grande song of the same name). It's also an eau de parfum — not an eau de toilette — so it packs a particularly impactful punch given the concentration of that type of fragrance.
While it's powerful with strong notes like juicy pear, vanilla, and cedarwood, the sculptural bottle reflects the freshness this scent conveys with its hint of rose. God Is A Woman is truly like a breath of fresh air and is the perfect scent to reach for anytime you're looking for a mood boost. Because it's such a nuanced scent, it will work well across all ages. 
Recommended related fragrances: Marc Jacobs Daisy Eau So Fresh,  Marc Jacobs Eau So Fresh Daze,  Prada Candy Kiss Prada Candy Sugar Pop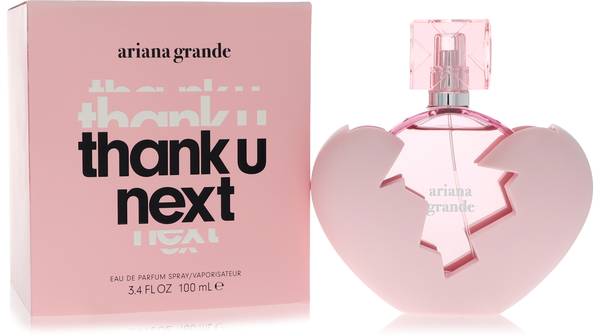 Thank U, Next is another women's Ariana Grande perfume for her inspired by one of the singer's smash-hit songs. Packaged in a pink broken heart bottle, it exemplifies positivity and optimism even in times of heartache and sadness. The idea of this scent is moving onwards and upwards, which is a wonderful message for young women.
While this is a great gift to give a teen or tween dealing with heartache, it's also one of the best Ariana Grande perfumes to wear year-round, with its blend of pear, raspberry, coconut, rose petals, macaroon sugar, and musk. This is a delicious fragrance that is as playful as it is feminine. It's likely to become a signature scent — even if it started from a place of heartache. 
Recommended related fragrances: Prada Candy Night, Hermes Un Jardin Sur La Nil, Hermes Twilly
What are Ariana Grande Perfumes?
Ariana Grande perfumes are sweet, gourmand scents that appeal to tweens and teens. Yet many are nuanced and sophisticated enough to appeal to more mature women. Both the packaging and the scents inside them are thoughtful and unique, with many appealing to even more mature women. 
Summary
When it comes to the best Ariana Grande fragrances you can't really go wrong with any of the ones featured on this list, especially if you're shopping for a tween or teen looking for her first scent, for a signature scent, or to help get her over the hump of a milestone like a first love — or a first heartbreak.
---
For more guides to the best perfumes from renowned brands, read on: